Truro Wool Instore Loyalty Card Scheme

Truro Wool wouldn't be what it is without the support of you, our lovely customers. Being able to say a meaningful 'thank you' to you for your continued support has always been really important to us. The Truro Wool Instore Loyalty Card is a way to show our appreciation for you choosing to shop local and support our small independent business.
HOW IT WORKS
It couldn't be easier – collect points on all qualifying purchases made instore, then when your card is full, redeem it the next time you purchase instore and save 10% up to a maximum of £5.00.
Points will be awarded at the till for all purchases above the required minimum spend, excluding sale items, workshops and tuition. These exceptions apply to redeeming your card too (see below for full Ts & Cs).
Although we don't currently have a way for points to be redeemed online (we're looking into this), if you are ordering via our website and plan to visit our physical shop in the future, we will gladly pop the points earned onto a card and send that with your order. Just pop a note in the 'Order notes' section on the checkout page to say you'd like your points.
THE MINIMUM SPEND TO COLLECT A POINT
Currently you collect 1 point for every £5 spent, with 10 points needed to fill your card. From 1st August 2022 you will receive 1 point for every £10, still with 10 points required to fill your card (see below).
CHANGES FROM 1ST AUGUST 2022
We are making this change to the minimum spend after much consideration. We have offered the £5 = 1 point scheme for over 8 years, however in the current economic climate, we simply can't maintain this. Making the change to £10 = 1 point enables us to continue to offer a scheme that works for everyone, and show our appreciation for your loyalty by helping your pennies to stretch a little further.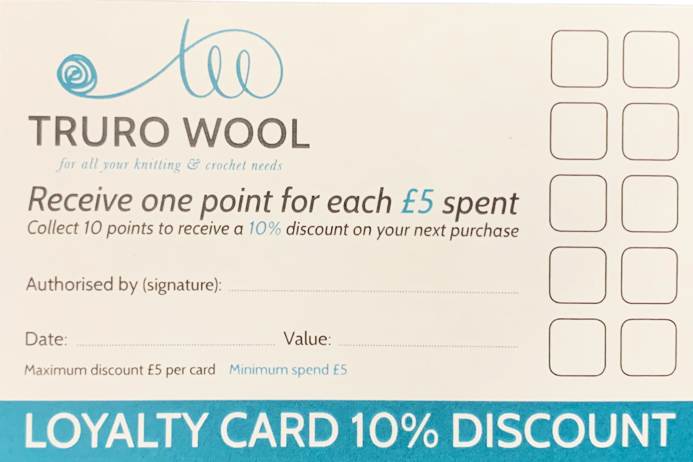 If after 1st August you have a, or several, part-filled green cards, don't worry, these points can still be used, but their value will be reduced. This means you would require two full green cards in order to redeem a 10% discount. There is also the option to transfer your points over to a new pink card, so two points on a green card will equate to one point on a pink card.
Points on any card older than the green card (pictured) will no longer be valid from 1st August 2022 (these cards are at least 6 years old).
TERMS AND CONDITIONS
Points will only be awarded on qualifying spend made instore
(sale items, workshops and tuition are excluded and therefore no points will be given on these items)
Full cards can only be redeemed on qualifying spend made instore
(sale items, workshops and tuition are excluded)
Full loyalty cards entitle you to 10% discount up to a maximum of £5 off for each card redeemed
Points can only be added at the time of purchase
Loyalty Points are not awarded on purchases that use a loyalty card for discount
(e.g. if you spend £60 and redeem a full loyalty card, you will receive a £5 discount, and earn 1 point on a new card – the points are not awarded for the first £50 of spend as that is what the discount is applied against, however points can be awarded for the amount over that £50)

Currently loyalty card points cannot be redeemed online

Loyalty card points for online orders must be requested in the order notes section on the checkout page – these can only be redeemed instore